Ironman Arizona 2015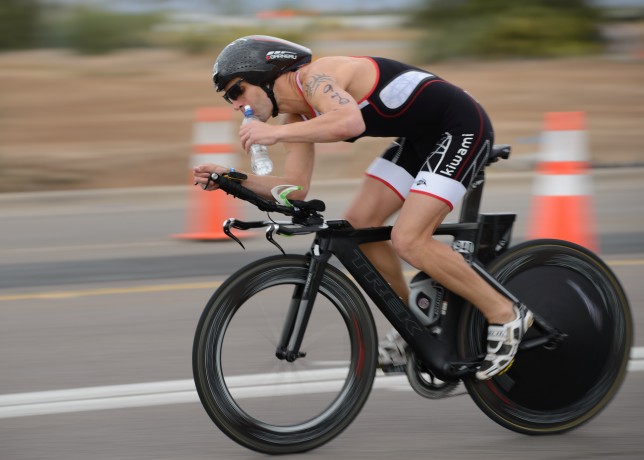 I am pretty wired after the day today, so I figured it may be an interesting thought experiment to capture my postrace thoughts before heading to bed tonight, especially since the plan is to try to unplug from triathlon and the world for the rest of the week while at the Grand Canyon.
There's no need to dive into the goals or plan for the race, I covered that a couple days ago.
Pre-race:
I headed over to the race site solo, since Mary had the two kids to deal with today. Fortunately our hotel was situated within easy walking distance where she could watch the swim, bike, and the run – and only be a couple of minutes from the hotel. Plus, this would leave the car close to the race site, for my hopefully broken body postrace.
Getting everything prepared was pretty typical and normal. My front tire, whose valve core had been causing me some grief upon arriving in Arizona, behaved itself and inflated, and held pressure the way it was supposed to. After getting everything set, I visited the porta potties, and got my wetsuit on. The swim corral was pretty crowded and I had a bit of a tough time getting to the front row – I guess that's to be expected when I didn't head over until just when the pro women started, leaving me only 5 minutes.
Swim:
IM Arizona instituted a rolling start this year, but unlike my experiences at IMCDA – a controlled influx through an arch, and IMTX, a controlled entrance through a boat ramp – they had us "walk" down the exit steps. I was not a big fan of this entrance method, and actually felt like it was a bit on the risky/unsafe side. I felt that people were pretty pushy and in a rush, considering that I ended up being somewhere between 2nd and 5th out of the water, I wasn't even able to get in the first group down the steps. I found it pretty interesting that Luis Alverez – who swam a 1:12 was in the first row – I mean WTF dude – are you looking to get swum over?
After the start it was the usual frantic craziness of people swimming all out the first couple hundred meters, I got smacked in the face once, by some idiot within the first 50 meters of swimming. While I had no real issues with the rolling start at IMCDA and IMTX, I think IM should reinstitute the mass start here – it's obvious that there are some knuckle heads that don't feel the need to appropriately self-seed based on expected time. And those steps are just plain stupid.
I digress though – I planned to swim and cut the tangent of the course, I'm not sure how much this reduces the distance based off of swimming the buoy line, but since the theme of the day was do what I need to do – I made it happen. A couple buoys in, one swimmer distanced himself from me, also following the tangent, off to my left there were two or three people swimming the buoy line – by the time we had reached the rural road bridge I thought I had separated myself from them, but towards the end of the swim one of them started to get real touchy feeling – so it turns out I just gave them a free tow.
I swam pretty easy and relaxed – I just focused on swimming a solid and steady pace. I exited the water and glanced at the clock and was really surprised to see it read 1:01 -which assuming it was the pro men's clock – meant I had swum a 51 – my fastest IM swim in over a decade.
T1:
I used the wet suit strippers to get my suit off right away – and then moved through transition quickly. Nothing special happened, just got it done.
Bike:
Based on the weather forecast this morning, and my power target of 235 – my "expected" bike split was 4:37 and change. I left T1 and immediately my legs just didn't seem happy about the power, mostly due to tightness in my adductors, which has been a theme for the past year or so. Given my mantra for the day of wanting a positive experience – I chose to trust my fitness, and road my plan. I decided that I would ride the target until I couldn't and then I would reevaluate then. Not knowing exactly what my body was thinking – I made sure to focus on nutrition and hydration. Take in the planned calories, and make sure to wash it down with enough water to keep it moving through – which at the least would make sure I never became under fueled or bonkish – artificially affecting my mental state of mind.
Power wise the first loop went well – I was able to elevate my power to ~245-250 on the climb to the turn around. After the turn around I was able to hammer down the hill, even with the tailwind – holding around 235 – I think this was mostly due to the addition of a 55t large chainring to my bike – thanks to Rob Gray for the idea. Starting the second loop I hit a pretty dark spot physically that lasted about until we hit the Beeline, where suddenly things started firing smoothly, my adductors finally loosened up and I started to relax really well into my position. This lasted through about the end of the second loop – where my legs started not doing so hot holding steady state power. I found myself really only able to hold about 220 steady, but I had no issues elevating power when needed – for example I was again able to ride the "climb" to the turnaround in the 240s.
After the last turn around, the inconsistent power output continued, however I did not allow it to pierce my mental bubble. I was fueling well, and despite having the hint of some VMO/adductor cramping, I was making good time – and knew that I have run well at multiple races feeling worse then I felt today.
Around mile 90, the spitting that we were getting turned into a steady rain, which I actually found enjoyable. There are few things in life as pleasant as sailing along at 25 mph, with water spraying off your wheel into your legs.
Once the rain started, I approached all the turns with an extra level of caution, thinking that the last thing I needed was to wipe out. With about 5 miles left of the bike, I finally caught the last amateur riding ahead of me, putting me into T1 as the first age grouper. As I finished up the bike, I thought to myself – man that ramp is going to be slippery. As I slowed and rolled up to the ramp – a volunteer said – "Be careful, the ramp is really slippery". What do I do, somehow I manage to hit the ramp not head on, my front wheel slides out, and down I go – bam – right on my left shoulder and hip.
I quickly popped back up, got back on the bike – only to find that the chain had dropped down past the small ring – thanks SRAM chain catcher….. so I just sort of skate biked the last 100/200 meters to the dismount line – which unfortunately resulted in my bike split being a high 4:39, instead of a 4:38 – always something.
T2:
Again uneventful. I took my time – got my socks and shoes situated well knowing that it would be really wet – perfect conditions for growing blisters, had a cup of water and then headed out onto the run. While I took my time in T2 – Adam Webber blazed through, apparently coming in off the bike just a few seconds behind me, and putting him out onto the run about 20 to 30 seconds in front of me.
Run:
At this point, I had become convinced that Steve Johnson was a DNS – having not seen any signs of him on the bike course, I figured I had a decision to make – assume there are no blazing fast runners behind me and go catch Adam quick like and put him out of his misery, or work the plan of doing what was right for me and simply bide my time.
I chose to bide my time, and headed out jogging – ticking off an endless string of 7:08 to 7:12 miles according to my GPS. I focused on running easy and fueling – ignoring my bladder telling me it was about to burst – I told it – let me know when you are willing to break the seal without causing me to break stride and we'll talk.
About mile 6 Adam finally started to slow a bit, and I started to make up ground – making the pass at mile 8 or so. From there on I continued my focus on fueling – basically a shot from my gel flask every other aid station – and two cups of water at each.
Around mile 11, as we headed back down towards transition I hit a bit of a rough patch and slowed for a few miles, but I let it happen – getting passed pretty handily by Amanda Stevens at mile 13. By about mile 14, things were better and my pace came back down into the 7:teens and low 7:20s – and I was able to keep it there for the most part for the next 8 or so miles, with the exception of the few inclines on the course. Because of some confusion at run special needs I missed my bag, causing me to switch my aid station routine to a cup of water and a cup of coke to keep the calories flowing in.
Once I got to mile 20, I reminded myself that my plan was to run a strong final 10k – with strong having a loose definition. At that point I checked the time, and defined strong as being running the last 10k quick enough for a sub 8:50 finish. At each mile I would do the math of how much time I had left, how fast I had to average, and I simply plugged away.
This time as I ran down the last mile and a half to transition/the finish – I was strongly focused on staying on the pace and getting to the finish line under 8:50. In the end, I ended up at 8:49:04 – a course PR by 10 minutes and 57 seconds – on a day when the top pro went a very similar time to what Eneko did back in 2011 – indicating a pretty strong improvement over the last four years since I've raced here.
My run split was 3:12:02 – which is my second fastest split, but it is the fastest run split of the days where I have gunned it from the start on the bike.
I'm very happy with the result, and I ticked off all the goals I had set out for this race. I am a little bummed that Steve Johnson had some body issues that resulted in a DNS – as I am sure it would have been a great dual – I'm sure the day will come for a head to head match up.
Going into the race I had told my wife, that an absolutely perfect day would give me a time of about 8:45, with a finish time of 8:55 to 9:05 being the most likely. I'm really happy with an 8:49, telling me that today was about as perfect as the come.
I haven't been able to download my run because I left my Ant+ stick at home, and while I also haven't downloaded my bike, shortly before the dismount I recall that it was 220 AP/225 NP – which was a good deal lower than my target, and about 3 AP/5NP lower than my race here in 2011. I'm really not going to lose any sleep over the difference. My preparation indicated that 235 was realistic, so I guess that's the way it rolls sometimes. On the bright side it bodes well for my CdA, and that coupled with my ability to elevate my output when needed is good – I just need to continue the progress I've made since Texas to help me return to a state where I am able to sustain my target power for the duration.
Closing out a few observations of people in general:
It seems like most people in the race over estimate what they can accomplish on race day – see my earlier mini-rant about swim seeding and people going out way to fast. Folks – there is no need to try and swim a 2:15 first 200 meters in an Ironman – particularly when your best time for a 100 meters is a 1:07. Slow down.
I was shocked on the second loop of the run at how "hard" it was to pass some of the first lappers. Here I am running 7:20-7:30 pace, and I decide I need to slow down because I'm unable to pass this dude who is running in a space blanket on his first lap. Guy – you are 3 miles into this thing and the race clock is at 7:40 – you are not going to be holding on for a 3:15 marathon. Slow. Down.
People do not pay attention to their surroundings on the bike. I was nearly pushed over the yellow line at least two times, by people swerving unexpectedly to the left. Countless times I had to slow and wait to pass while some person who felt it was his privilege to ride 18 mph down the center of the lane, forcing people to have to queue up to pass him.
People really appreciate it on the run when you cheer for them – no matter if you are passing them or running in the opposite direction. I got several thanks and one – "Man, I really needed that" as a result of my cheering/congratulating competitors throughout the day.